Please join us for this intensive (and fun!) one day workshop with a demonstration by Amanda Fish.
Space is limited so please call the gallery at 626-358-5563 or e-mail us at info@segilfineart.com to reserve your space!
Demonstration Only: $25
Workshop: $95
"Simple Elegant Fruit" - Oil painting workshop with Amanda Fish, Saturday, June 1, 10:00am-4:00pm at Segil Fine Art Gallery. Cost: $95 per person, lunch included at the gallery. Supply list to be sent.
A one-day still life oil painting workshop with artist Amanda Fish, who just closed her first solo show at Segil Fine Art Gallery. Amanda will give a painting demonstration working from a photograph she has taken of a still life setup. See how she uses thin layers of transparent color to create bright luminescent fruit. With plenty of time for one-on-one instruction, learn to simplify your palette, paint with sable or synthetic brushes, improve your understanding of value and color relationships in a still life composition. Each artist will receive the same large format photograph to work from. Please contact Segil Fine Art Gallery, 626-358-5563, www.segilfineart.com, to sign up for this special workshop.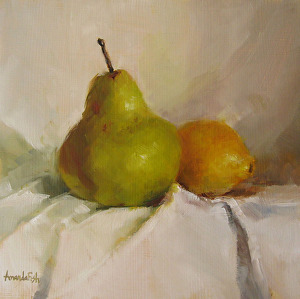 "Bartlett and Lemon" 8x8 oil